Trucking Accident Attorneys Joplin MO
Collisions involving commercial trucks are among the deadliest. Accidents involving heavy commercial trucks or tractor trailer trucks can result in serious or fatal injuries. Big trucks weigh tens of thousands of pounds, making them hard to stop and harder to control. Truck accident cases are usually more complicated than accidents involving passenger cars. They involve extensive investigation that should begin immediately after the accident. Evidence such as electronic control module data ("black box"), driver logs, on board computer video and data, physical scene evidence, and vehicle maintenance and trip records must be collected as soon as possible to make sure all evidence is preserved.
Trucking companies have teams of insurance adjusters and lawyers working for them. They often arrive at the scene while the police are still collecting information. It is crucial that you have an experienced legal team working to protect your rights.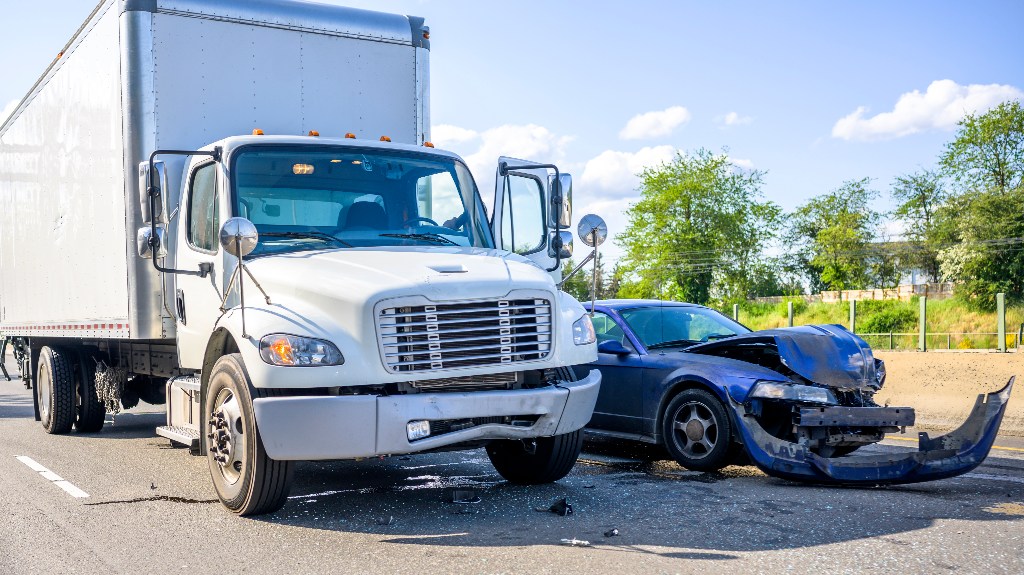 The attorneys at Dreyer & Tinney have obtained multi-million-dollar settlements and judgments for our clients who have lost a loved one or been injured in an accident involving tractor trailers trucks and commercial vehicles.
If you were hurt in a trucking accident, you deserve compensation for your injuries and suffering. Our Missouri truck accident lawyers have the skills and experience you need to get justice and are ready to fight for you.
​What Are the Common Causes of Truck Accidents?
According to the Federal Motor Carrier Safety Administration (FMCSA)1, driver error is the leading cause of truck accidents, accounting for 87% of crashes. Vehicle defects account for another 10% of crashes. Environmental factors lead to 3% of truck crashes.
Common causes of truck accidents include:
Speeding
Driving too fast for conditions
Weather
Heavy, unsecured load, debris
Drunk driving, driving under the influence
Failing to yield; improper lane change
Careless driving, reckless driving
Texting while driving; distracted driving
Inadequate sleep, fatigue
Poor training to drive a large truck
Running a stop sign or stoplight
Vehicle manufacturing defect
Failing to maintain the truck in a safe condition
Most crashes can be traced to negligence or driving error. Big rig drivers are at a high risk of fatigue because of long hours on the road. However, federal regulations limit drive time for truck drivers to prevent distracted driving and potential tractor-trailer or semi-truck accidents.
A victim who suffers injury due to the accident may claim financial compensation for their damages. Call us at 417-782-6822 today to get started.
What Should You Do Following a Truck Accident?
Following a truck accident, you should:
Make sure you're out of harm's way. Move off the roadway.
Call 911 – Injuries may be severe even if you don't realize it yet.
Check on others, help with first aid until someone with more experience can take over.
Receive medical attention for your injuries.
Take photographs and video – Record the accident scene, damage to the vehicle, debris, and injuries.
Get the information for the other driver, including name, address, phone number, license plate, and vehicle information. Get their insurance policy information and their employer details.
Record names, addresses, and phone numbers for other witnesses
Don't admit fault or say too much at the accident scene. You don't have all the information just yet.
Continue to receive medical care as directed.
Victims should also speak with an attorney as soon as possible. A commercial truck accident lawyer can take over right away with reporting the accident to insurance, providing information, and starting your claim.
What Are Common Types of Truck Accident Injuries?
Common truck accident injuries include:
Broken bones
Traumatic brain injury/Concussion
Spinal cord injury
Paralysis
Whiplash
Organ damage/Internal injuries/Seat belt injuries
Cuts/Lacerations
Bruising/Rib damage
Wrongful death
Who Is Responsible for a Commercial Truck Accident?
The truck driver may be responsible for a commercial truck accident. But they aren't the only party that may be liable to pay damages. Others who may be held accountable for the truck crash may include:
The truck driver's employer
The trucking company that owns the truck
The vehicle manufacturer
The government entity responsible for designing and maintaining the road
Fault can be a complex question. Don't make assumptions about liability or your right to a financial recovery without speaking to a Missouri truck accident attorney. Let our team help you fully investigate to see who is at fault and determine the best path to claiming monetary compensation.