Motor Vehicle Accidents/Collisions Attorneys Joplin MO
Car accidents cause sudden upheaval in a person's life, often with tragic and long-lasting consequences. According to the Missouri State Highway Patrol, 47,894 people were injured in car accidents in 2020.
Many motor vehicle collisions involve alcohol, speeding, distraction, and failure to yield right-of-way. When driver negligence is a factor, victims and their families are entitled to compensation from the at-fault party.
If you have been injured in a car accident, you will need help getting the compensation you deserve. For more than 25 years, the car accident lawyers at Dreyer & Tinney have successfully represented people injured in car accidents, in Missouri and across the country. The lawyers at Dreyer & Tinney know just how serious injuries from car accidents can be. There is no obligation and we don't get paid unless you do. There are no attorney fees unless we win your case and you receive compensation.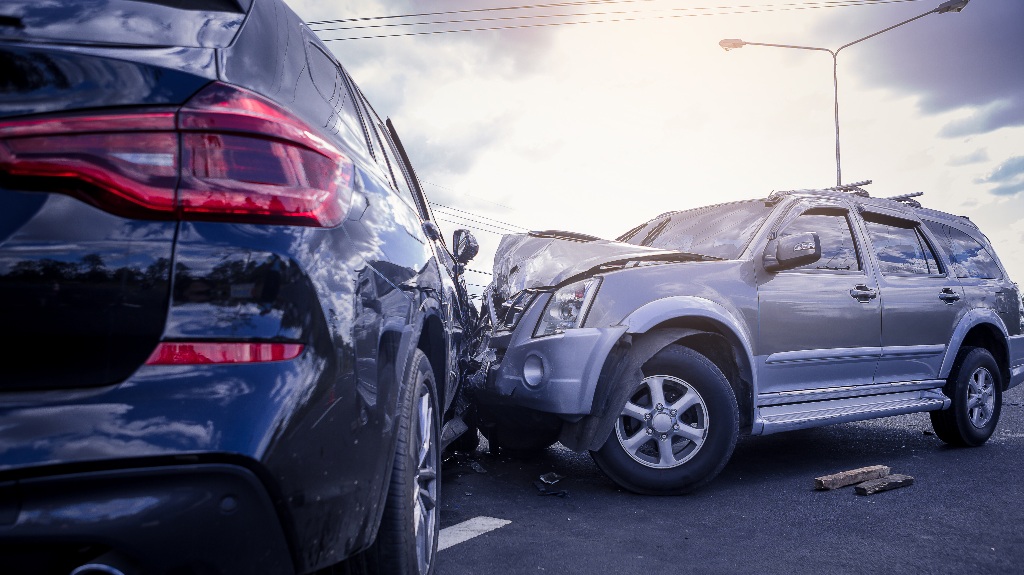 Injured in a car accident? Click to call for a FREE consultation! 417-782-6822
DREYER & TINNEY CAR ACCIDENT LAWYERS WILL FIGHT FOR YOU
Being in an auto accident is often life-changing. Severe injuries, expensive medical bills, lost wages and long-term care are just a few of the devastating consequences from car accidents.
If you or a loved one sustained injuries due to the negligence of another driver, contact our firm today. Let our devoted personal injury team handle your claim, so you can focus on your recovery. We offer free, no-obligation consultations, and we don't get paid unless we win your case.
NEGLIGENCE IN A CAR ACCIDENT CASE
Operators of Motor Vehicles in Missouri have a responsibility to use the highest degree of care. Missouri follows a rule of pure comparative fault. This means that a person does NOT have to be 100% at fault for the accident in order to be considered liable for the injured party's losses. If the other driver is determined to be even 1% responsible for causing the accident, you may be able to receive compensation.
Explore your legal options with the Dreyer & Tinney team. Even if you're not 100% sure what happened in the moments before your accident, we'll get to the bottom of it and let you know what to do next.
Talk with an experienced car accident attorney for free! No fee unless you receive compensation. Call 417-782-6822
Investigating Your Case
As soon as you sign with our firm, we begin investigating your accident, which includes gathering important evidence from the accident scene. This evidence often involves accident reports, security or traffic footage, eyewitness testimony and electronic data recordings. If needed, our firm also hires accident reconstruction experts to further strengthen your claim. We are relentless in our pursuit of justice for our car accident injury clients.
In addition to gathering evidence from the accident, we also research all potentially liable parties. We want to ensure that our clients receive justice and adequate compensation for their damages. Our attorneys work tirelessly to identify all coverage options and hold all negligent parties responsible.
Dealing With The Insurance Companies
Another important part of our job is gathering all the necessary documents and submitting them to the insurance companies. Our legal team communicates with all of your medical providers. We obtain all medical records and bills related to your accident. During this phase, we also collect any additional monetary losses. Once all bills and records are in, our legal team prepares a demand package to send out to the adjuster. Your claim then moves into negotiations.
At Dreyer & Tinney, our car accident lawyers take pride in helping the injured people of Missouri. Dealing with the insurance company can be difficult and the insurance companies do not always have your best interest in mind. Insurance companies have a team working for them. So should you. Our knowledgeable and experienced team of attorneys will deal with the insurance company so you can focus on recovering from your injuries. Dreyer & Tinney strives to settle your case for its maximum value and in a timely manner. Additionally, if the insurance company undervalues your claim, our attorneys have the experience to try your case in court.
Types of Car Accident Cases We Handle
At Dreyer & Tinney, we know that each car accident claim is based on a unique set of factual circumstances. No matter how your car accident unfolded, our experienced personal injury attorneys are ready to help you recover the compensation you deserve. Some of the more common types of car accidents our attorneys handle include:
Blind spot accidents – Blind spots occur when a driver changes lanes but does not see the other vehicle in the rearview or side-view mirrors. Drivers must always look over their shoulders to double-check that a vehicle is not traveling in the blind spot after signaling and prior to changing lanes.
Distracted driving accidents – Distracted driving most commonly refers to drivers who are texting, talking, or browsing on a smartphone. Other distractions that can cause an accident include GPS devices, radios, eating, or other instances of multi-tasking. Driving requires one's full attention.
Drunk driving accidents – It is illegal to drive a vehicle with an alcohol concentration level of 0.08 or higher.  Over 10,000 people in the United States die each year in crashes involving an alcohol impaired driver. 
Fatigued driver accidents – Drowsy driving produces reaction times similar to drunk driving. Motorists should get a restful night's sleep and avoid taking sedating medications before driving. Commercial drivers are bound to federal limitations on how many consecutive hours they may drive and must take prescribed breaks.
Head-on collisions – Vehicles facing each other and hitting head-on result in some of the most serious and fatal accidents. These collisions are almost always caused by drunk or distracted drivers who veer over the double yellow line or enter the highway traveling in the wrong direction.
Hit and run accidents – It is illegal to leave the scene of an accident without rendering "reasonable assistance" to the injured and providing information such as name, phone number, and insurance ID. While hit-and-run accidents may be charged in criminal court, victims and their families are also entitled to financial recompense in civil court.
Intersection accidents – Over 128,000 crashes involving more than 400 deaths (about 40% of accidents) occur annually at intersections due to failure to yield right-of-way, rushing through a red light, and turning in front of another vehicle.
Rear-end collisions – In most cases, the striking vehicle is at fault for the accident. There are exceptions, however; in multiple vehicle collisions, it may not be possible to avoid rear-ending another auto after being struck.
Rollover accidents – Collisions where a vehicle rolls over onto its roof are some of the most dangerous and deadly. They are especially common with SUVs. In some cases, manufacturing or design defects may be to blame.
T-bone accidents (also known as side-impact collisions) – The side of a vehicle is often hit when two vehicles are traveling opposite ways across a T-shaped intersection. Usually, one driver has failed to heed a red light or stop sign. Side impacts are especially dangerous since there is little protection on the side of a car for occupants.
Accidents caused by speeding – Tens of thousands of accidents and hundreds of lives are lost each year when drivers fail to obey posted speed limits.
Accidents caused by tailgating – Drivers are required to allow "sufficient following distance" so there is time to stop if necessary. Failure to do so can result in a ticket for tailgating and liability for any injuries sustained during the crash – most notably whiplash.
Accidents from cell phone distraction- The Missouri Department of Transportation says in its preliminary findings estimates that over 2,200 accidents occurred in 2021 involving drivers distracted by cell phones, including texting. 
Texting and driving accidents – Texting while driving is a leading cause of distraction for drivers in Missouri. Individuals engaging in such reckless activity can be held liable for any property damage and injuries. These accidents are often fatal, as the texting driver is completely unaware of the impending crash and does not take any measures to prevent it.
Uber & Lyft accidents – Ride share companies have large insurance policies worth millions of dollars, though they often try to place the blame for accidents on their independent contractor drivers who carry far less insurance. It's always best to consult with an attorney to navigate these complexities.
We Help Accident Victims Across Missouri.
Free consultations are available by phone, email, text and video conference, and we can even come to you if you prefer. However, no in-person meeting is required in order to get started with your Missouri car accident injury claim.